Pub History
Family and Community Historical Research Society
It seems to me that the changing nature of the pub and its importance to local communities is a subject ripe for study by academics and local historians alike, and hope these pages will encourage people to begin research.
In these pages you will find:
An article of mine from Local History Magazine about pubs and how to start your research
A checklist of clues which the physical structure of public houses may tell you about their history
A list of useful sources found at local studies libraries and archives and a bibliography of useful books and pamphlets.
An introductory paper on the various roles fulfilled by pubs.
An eyewitness account of the conditions under which pub employees (cellarmen and potmen)worked about 1895. There's also a short piece about barmaids and waitresses, as well as a guide to tracing ancestors who worked in pubs.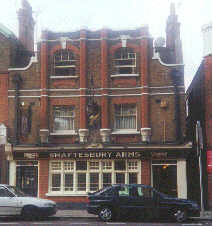 Links
There are surprisingly few sites devoted to the history of pubs and breweries. They include:
The excellent National Pubs and Breweries website, which has a bulletin board and links to other sites around the country.
Another must visit site is the Pubs, Inns and Taverns Index, 1801-1901, which aims to provide an index to the public houses of the 19th century and the people who worked in them.
In common with an increasing number of pubs, the Shaftesbury Arms, Kew Road, Richmond has its own website. If you are there late on a Friday night I'll buy you a pint!
The Campaign for Real Ale's National Inventory of Historic Pubs lists buildings of particular historic or architectual merit. The Brewery History Society has been slow to take advantage of the internet, but it produces an excellent journal and regular newsletters. Also of interest is the Pub History Society .
An index to the pubs of Essex is being prepared by Ian Stratford. There is also another excellent site for the pubs of Gloucestershire .
Lastly, there is an interesting and well-illustrated talk by Paul Sandford on 'The Public House - its Role in the Local Community' which he gave to the Bourne Society in 1998, mainly about the pubs of East Surrey.
More about the Family and Community History Research Society has its own website, as does the South-East Branch (both of which includes something about the Pub Project).
There is also a fascinating site about the history of darts. It's a little known fact that I was school darts champion - my only sporting achievement to date!
Further reading
I have included a short bibliography. Have you any websites or books you would recommend? If so, why not e-mail me.
Copyright 2000. All rights reserved.