The Boer War
These pages are at present very much under construction.
There is already a page listing sources at the Public Record Office. In weeks to come will be added a page about service charities during the Boer War, extracts of an article which appeared in Family History Monthly, and a list of useful links.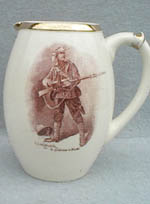 A jug which was sold on aid of one of the various war charities. On the reverse appeared a poem by Rudyard Kipling called The Absent Minded Beggar which sold in large number during the early weeks of the War. More about the Beggar can be found here !
Copyright 2001. All rights reserved.