Boer War Records
in the PRO
This page originally started off as an article for the Anglo-Boer War Research Group of Australia. The Public Record Office has by far the largest collection of original material relating to the War
Most records relating to the Boer War are to be found in the War Office (prefix WO) or Colonial Office (CO) series, although useful material may occasionally turn up in Admiralty (ADM) or Foreign Office (FO). Within each department the records are collected together by type and given a unique collection or (using PRO terminology) series number. Thus Imperial Yeomanry Soldiers' Documents are all in series WO 128. Within each series each item (or piece) is given a unique reference. A soldiers' document for a Trooper John Adams may in piece WO 128/1. Actually the easiest way to see what the PRO might have on your subject is to search their on-line catalogue. Just click on 'Finding Aids' and follow the instructions.
As well as documents the PRO also holds microfilm sets of Parliamentary Papers and The Times for the period which may also contain material of interest.
Military operations
The best place to start is WO 108 - the South African War Papers. This series consists chiefly of the correspondence of the Commander in Chief, South Africa (Lord Roberts) with reports and returns received by him from unit commanders. There are also some nice photographs of blockhouses to be found here. Similar material can be found in Lord Robert's personal papers in WO 105.
Another important source is the material in the War Office general correspondence (WO 32/7844-9119). Some intelligence reports, including reconnaissance reports, are in WO 33/152-198.
Material from earlier in the war is in the Buller Papers (WO 132). Several other commanders have collections of papers at the PRO including Maj Gen Sir John C. Ardagh (PRO 30/40), Col R.B. Colvin (WO 136), Lord Kitchener (PRO 30/57), and Brig Gen Sir H. Osborne Mance (PRO 30/66). Material in these serieses tends to consist of dry official papers rather than more interesting personal letters or diaries.
It can be almost impossible to trace what individual units did as the invaluable habit of writing a daily unit war diary did not start until after the Boer War was over. Staff diaries may help. Unfortunately their survival rate is poor. Diaries for December 1899 and January 1900 are in WO 32/7868. 7876-7877. Those for the Natal Campaign for May and December 1900 are in WO 32/7901, 7951.
An invaluable source are the maps drawn up for use by the Staff in planning campaigns and operations which are in series WO 78, with some in WO 108They cover the whole period of the War.
Service records
Service records for men who served in the Boer War and who lived to tell the tale are in several sources. They do not include records for men who served in Australian colonial units. Records for soldiers in the Regular Army are in WO 97. Enrolment forms for local armed forces are in WO 126 with nominal muster rolls in WO 127. Soldiers' documents for the Imperial Yeomanry are in WO 128, with registers in WO 129.
Australian troops with a mascot.
There are several series of records relating to subsequent pension claims. The two most promising sources are WO 148, for claims made between 1901 and 1904, and PMG 9/48-50 for later claims. Occasionally, individual claims can be found in the selected war pensions award files in PIN 71.
It is fairly easy to trace the career of an officer from the Army Lists. Service records of officers are for the most part in WO 76 with some records, especially for men who saw in the First World War, in WO 339 and WO 374 (with indexes in WO 338). Embarkation returns for officers are in WO 25/3520-3522. A roll of officers and NCOs in the Imperial Yeomanry is in WO 108/93-95 with casualty books and a nominal roll of officers in the Yeomanry awarded the Queen's South Africa Medal in WO 129/8-12.
Casualties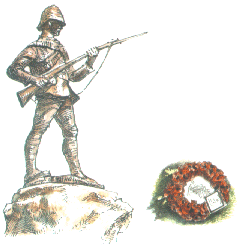 Some 42,000 men lost their lives during the War, most to disease rather than enemy action. A complete list of casualties is WO 108/360. Similar lists of casualties are in WO 108/89-91, 338 and WO 25. Naval losses are recorded in ADM 116/529. A list of soldiers buried in colonies in Cape Province is DO 119/1479.
Right - memorial to officers and men of the Royal Irish Regiment who lost their lives during the War at Belfast City Hall.
Medal rolls
There were two campaign medals for the War: the Queen's South Africa Medal (QSA) awarded to men who served in the campaign up until the Queen's death on 22 January 1901, and the King's South Africa Medal (KSA) for men who served after this period. Rolls to both these medals are in WO 100. If you are not sure which unit a man was serving with, you may be able to get this information from the medal roll.
Awards to men who served in the Royal Navy during this period are in ADM 171/52-54, including awards to Marines and members of the Naval Division.
Gallantry awards can be found in several places. Registers of awards of the Victoria Cross is in WO 98/4,7 with correspondence in WO 32 (CODE 50). Correspondence about gallantry awards to Australian and other colonial units can be found in WO 32/7614, 8182-8188.
Colonial and foreign policy
It is impossible to understand the South African War without reference to the diplomacy of the time. Most of these records are at the PRO although it can sometimes be difficult to track your way through the material. Probably the most important source is the correspondence between the High Commissioner in South Africa, Lord Milner, and the Colonial Office which is in DO 119/347-449. Much of this correspondence was printed and called Confidential Print. Material relating to South Africa is in CO 879/55-79. Less important papers may be found in the ordinary Colonial Office correspondence with Cape Colony (CO 48) and Natal (CO 179).
Ephemera
One of the little known pleasures of the Office is the copyright material that the PRO has between 1870 and 1912. Under copyright legislation of 1870 anybody who wished to copyright an image had to submit a specimen to Stationer's Hall. This material was eventually passed to the PRO and is now in COPY 1. The great interest in the War felt by people in Britain is vividly expressed in these collections. There are literally thousands of photographs, posters, point of sale material, brochures, chocolate wrappings etc etc containing images from the war to be found here. The one problem is that there is no index at all, so it can be difficult to easily find one specific image.
Further reading
The Office publishes a useful source sheet (No 31) on the 'South African Boer War 1899-1902' listing most of the records which might of interest to researchers of the period. It is available free of charge from the Office. A useful PRO Reader's Guide to many of the records described below is Simon Fowler and William Spencer, Army Records for Family Historians (2nd edition, 1998) which can be ordered from the Office.
Back to Boer War
Copyright 2001. All rights reserved.